Not all who wander are lost..... (from my favorite ever bumper-sticker)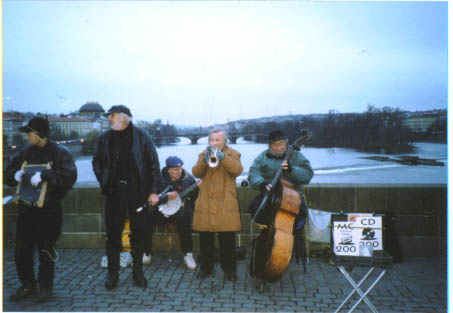 This from the Charles Bridge over the Vltava River in Prague in the Czeck Republic. Jazz band performing. In person the trumpet player looked like a corpse. The clarinet player also sang raspy blues.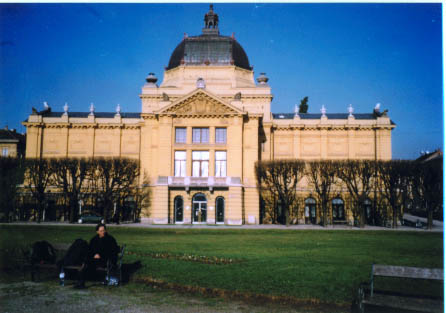 That's my sweet Krumpli (potato) sitting on a bench in Zagreb, Croatia. During the early 90's Balkan Wars, parts of Zagreb were hit by Serb missiles. In the background here, an art gallery. The mustard yellow building is quintessentially eastern European (so many yellow buildings ranging from Mustard to Egg Yolk to the brightest of yellows that we refer to as Disco Yellow).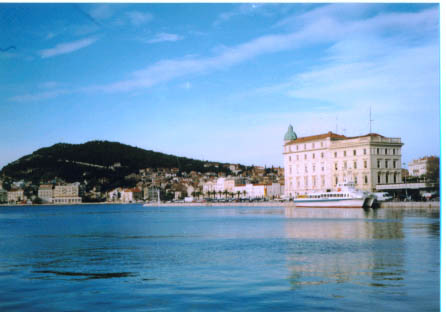 The Adriatic coast of Croatia, in the charming city of Split. Photo was taken a few days after Christmas. It was in the 50s there.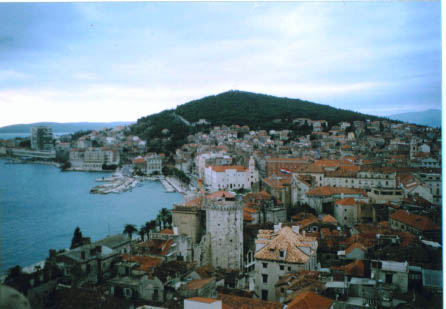 More of Split, or Spalato as the Italians call it. The former vacation home of the Roman Emperor Diocletian resides here in ruins (a palace). This is the view from some big tower thingy. 'Twas rhapsodic until I ate the accursed pizza of my ruin. I ended up spending most of my time in Split in paroxysms of food-poisoning cramps. Ow.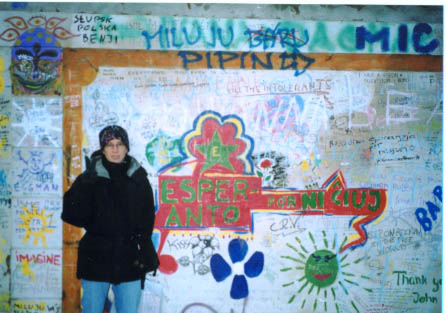 Dig this: the John Lennon Wall in Prague. I am flashing my peace sign in front of a tribute to the international language of Esperanto (I am writing a novel about an Esperanto cult in South Dakota although I hate it right now). They say that I'm a dreamer, but I'm not the only one....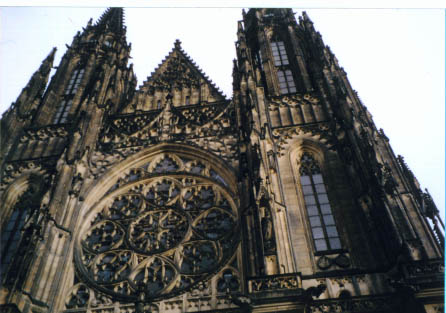 That is St.Vitus' Cathedral on the grounds of the Palace in Prague.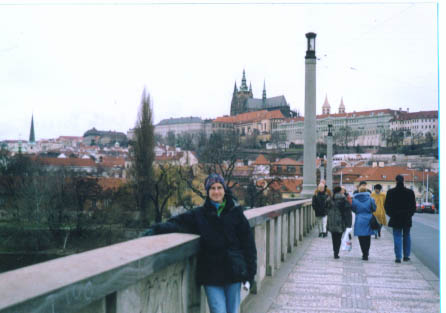 I'm always taller and have bigger tits in my imagination, but here I am on a less interesting bridge over the Vltava in Prague. More interesting is what's behind me, the what's-it, I think they call it the Palace District, in Prague. The Czeck government still resides in the Palace that was built back when gas didn't cost anything because everyone was riding around on horses wearing armor and fighting like primitives, they didn't have any of these fancy schmancy smart bombs that killed civilians in one fell-swoop, they had to kill them one at a time....